This site uses cookies to deliver services in accordance with the Privacy Policy
You can specify the conditions for storage or access to cookies in your browser.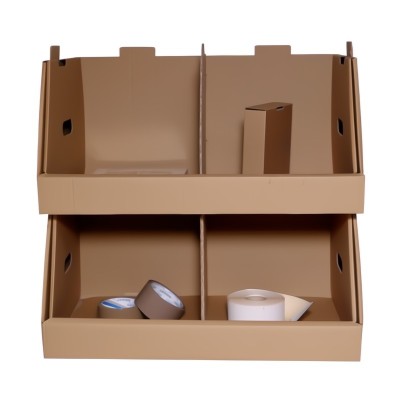 Shipping 48h
Cardboard rack
Cardboard storage shelving systems are increasingly popular not only in small businesses, but also in large manufacturing companies. Cardboard racks were popular a dozen or so years ago. Today they are coming back to favour and enjoy even greater interest and recognition. Light, cheap and easy to transport, they offer numerous advantages. At Boxmarket.eu you can find modular cardboard shelving systems that will meet even the highest demands. Feel free to browse our entire assortment and contact our staff. We will be happy to help you choose the right cardboard shelving unit, as well as any other product available on our website. Contact us by phone or e-mail - we are at your service during our office hours.
Why choose cardboard modular shelving systems?
At Boxmarket.eu you will find a wide selection of cardboard shelving solutions. This way you can use your storage space or staff room to its full potential. Cardboard racks are lightweight, quick and easy to assemble, require little maintenance and can be easily folded and stored away if needed. Plus, you don't need any special skills or tools to assemble them. A rack can be assembled in just a few moments. Contrary to what you might think, cardboard shelving units can safely accommodate many items without the risk of damage, loss of functionality or poor visual appearance. But that's not all - modular cardboard shelving systems offer many possibilities for future warehouse expansion. You can simply buy more units and arrange the shelving according to your new concept. Carboard racks also very convenient and easy to move. Due to their numerous advantages, cardboard shelving systems are also becoming an increasingly popular choice for living spaces.
Eco-friendly and affordable cardboard shelving systems
Modular cardboard shelving is not only a perfect option for start-ups that are looking for robust, low-cost solutions, but also for established companies that value eco-friendly products. When compared to plastic or metal storage units, a cardboard rack is a much better choice for the environment. So if you are a conscious consumer and an eco-friendly businessperson, you should consider using cardboard shelving in your company. Another aspect that cannot be ignored is the price of cardboard shelving systems. Cardboard units are much cheaper than alternative designs using other materials. Plus, they offer greater mobility, and don't need repairs or special maintenance. They are a perfect solution for everyone!
Modular cardboard shelving systems and other solutions available at Boxmarket.eu
Boxmarket.eu is an online shop offering comprehensive solutions for e-commerce companies. Apart from high quality modular cardboard racks, we offer cartons and boxes, packaging fillers, envelopes, including courier pouches, packaging equipment, warehouse accessories, such as adhesive tape dispensers, tapes and foils. All these products will certainly come in handy when preparing shipments for customers. What's more, to meet our customers' expectations, we have also made it possible for you to custom design your cartons yourself, both in terms of size and appearance. In other words, by using our website you can configure your own unique cardboard boxes to be used for shipping products to your customers. The actual process of creating and ordering the packaging is simple and intuitive. However, if you need help in designing your perfect custom-made solution, please do not hesitate to contact our customer service department. Our consultants are at your service during office hours. You can contact us by phone or e-mail. 
Modular cardboard shelving is a lightweight, durable, robust, eco-friendly and affordable solution. Enjoy flexibility, mobility and plenty of storage space. Give us a try!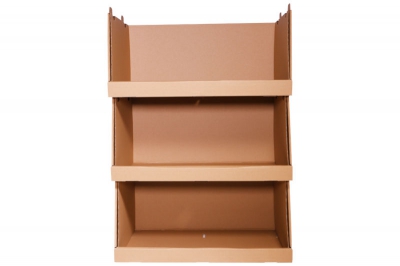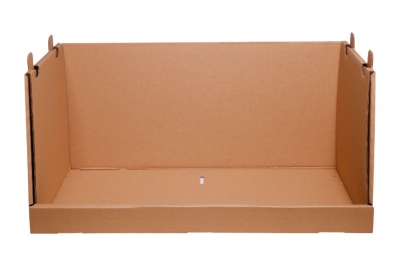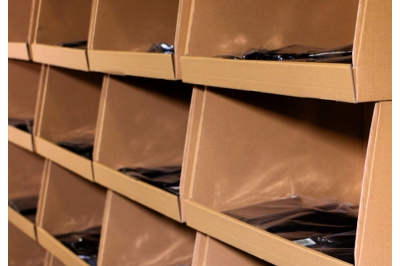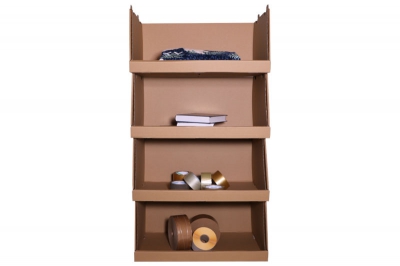 Sorry for the inconvenience.
Search again what you are looking for