This site uses cookies to deliver services in accordance with the Privacy Policy
You can specify the conditions for storage or access to cookies in your browser.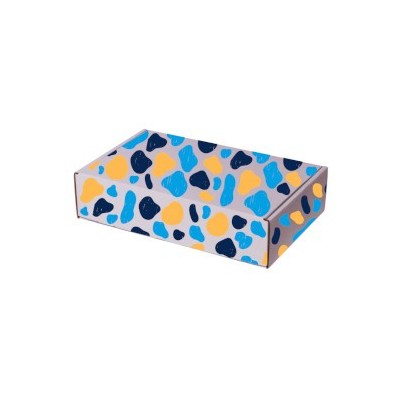 -25 EUR for the keyword SPRING
F427 Digitally printed die-cut box
We offer die-cut boxes that can be used for shipping, but also for decorative gift packaging. Any digital print can be made on the box, making the design easy to adapt to your specific needs. As they have no adhesive or tear-off ribbon they can be opened with no damage, so they are perfect as gift packaging. The number of colours and size of the print do not affect the price.
• Die-cut boxes are available in white, with one-side gloss paper coating. While the inside of the box is brown.
The digital-printing method guarantees not only great detail, but also the depth and intensity of 4 CMYK colours. We give the option of Full-Colour die-cut boxes printing.
We supply boxes in the following sizes (length x width x height)
• 250 x 160 x 60 mm D15_250x160x60

• 350 x 250 x 70 mm D25_350x250x70

• 250 x 200 x 100 mm D35_250x200x100

• 450 x 350 x 80 mm D45_450x350x80

• 350 x 250 x 140 mm D55_350x250x140

• 400 x 300 x 150 mm D65_400x300x150

Please send your finished project to info@boxmarket.eu.
Our graphic department can prepare for You a professional printing design for only 25 Euro. Order lead time is 5 business days.
F427 Digitally printed die-cut box
Sorry for the inconvenience.
Search again what you are looking for