This site uses cookies to deliver services in accordance with the Privacy Policy
You can specify the conditions for storage or access to cookies in your browser.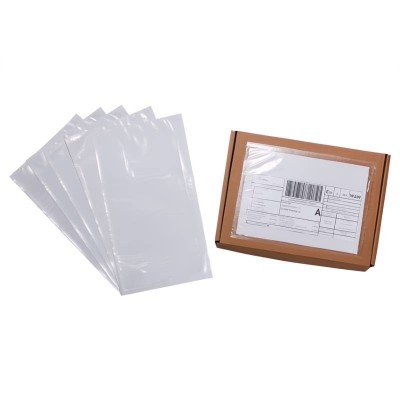 Shipping 48h
Invoice pouches
What are invoice pouches? Courier companies must have a secure and convenient way to carry additional documents. It is also functional if such papers travel together with the parcels. This is where invoice pouches enter the game. They are self-adhesive courier envelopes that also have other important features.
Invoice pouch: an essential accessory
Why did invoice pouches become so popular? This relates to a dynamic growth of courier services, which can be observed for the last several years. As we know, time plays a very important role in transport. This is why even the tiniest improvements may finally turn out to be crucial. The use of self-adhesive envelopes is a perfect example of an innovation that was quickly caught on and became a standard.
We should add that such invoice pouches must be made with great care. Their reliability is extremely important. If the pouch comes off during a long travel, it can cause a lot of trouble. Therefore, it is crucial that the pouches are made with top-quality adhesive, which guarantees that the label will remain inside the pouch. Such envelopes must also be wrapped with a foil. We all know that the documents or label placed inside may be exposed to moisture or dirt during transport. A protective surface is then vital.
This is why the invoice pouches are made of resistant LDPE foil. That material protects the documents not only against moisture and contamination but also against mechanical damage. The thick foil prevents tearing. The pouches are mostly used to send additional documents or technical, commercial or product-related information. They are also secured against accidental opening. This is another reason why each courier company should have a lot of such pouches on stock.
What are the benefits of an invoice pouch?
What other characteristics should an invoice pouch have? Courier companies transport very different packages. Thus the glue at the pouch must be not only waterproof but also has to work on various surfaces. This applies not only to cardboard but also to colored envelopes, stretch foil, bottles or plastic bags. Versatility of the product is always the key to success.
C5 invoice pouches
Which self-adhesive envelopes for couriers are the most popular? Without a doubt, the ones that are most sought after are the C5 pouches. They have standard dimensions of 230 x 130 mm. They are offered in packages containing 100 pieces. Of course, the consumption of such accessories at courier companies is huge. Thus you should take care that they are always on stock. Please note that you can get a very attractive discount when buying several hundred pouches in one order.
C4 invoice pouches
The C4 pouches are also one of the standard formats. Their dimensions are 310 x 230 mm. These envelopes are also offered in packages of 100 pieces. Also in this case, when buying several hundred pieces, you can get a very attractive discount.
Invoice pouches and their creative ways of use
Where else can we use the invoice pouches? Sometimes they are used to organize documents stored on CDs. They also allow vendors to attach additional advertising materials in their catalogs. In addition, they can be used to organize small office supplies such as paper clips.

Invoice pouches are a very common and useful solution in logistics. Owing to them, each parcel can be attached with all the important documents.
Sorry for the inconvenience.
Search again what you are looking for