This site uses cookies to deliver services in accordance with the Privacy Policy
You can specify the conditions for storage or access to cookies in your browser.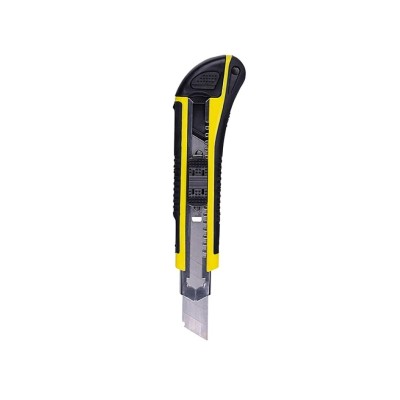 Shipping 48h
Knives and blades
The Boxmarket.eu online store has many products intended for the professional packing of various types of goods. You will need tools if you want to correctly pack or unpack an item. The most useful accessories include retractable knives. You can use them to cut through tape or packing paper. We propose several models of retractable knives and replacement blades. Explore the full range offered by our store.
Retractable knives – a must-have for packing and unpacking
When you prepare packages for your customers, you should pay attention to every detail. One of the hand tools that can improve the quality of your work are knives with snap-off blades. The offer of the Boxmarket.eu online store includes different types of retractable knives. Find out more about our products!

The Proline metal knife is one of the items recommended for professional packers. It is a high-quality product made using Japanese SK5 steel. The body of the knife is made of plastic. This model is used with 18-mm blades. It is one of the many items we would like to present to our customers. Visit us today!
Retractable knives – advantages
Knives with snap-off blades are very popular with people who work in a warehouse or at home. They are very convenient to use. You can easily hide them in a pocket, bag or tool case. The blade can be retracted with a knob, button or slider. It all depends on the model you choose. Retractable knives usually have a plastic body that is strong and resistant to various types of damage. We also offer knives with a metal body.
Knives and blades at Boxmarket.eu
The offer of the Boxmarket.eu online store includes different types of knives. This is not our only proposal in this category. Our product range also includes replacement snap-off blades packed in units of 10 pcs. We propose Proline and Mega blades. They are 18-mm wide. Depending on the selected model, the blades are placed in a special box with a dispenser or in a plastic case.

If your job involves professional packing, you will need not only the tools themselves but also packaging that enables you to prepare secure and neat-looking packages. You might, for instance, be interested in flap boxes, which are one of the most popular solutions owing to their functionality. Visit our store and explore our entire offer.
Stanley metal knives – reliability and occupational safety
Looking for a retractable knife that will serve you for a long time? The model designed by Stanley should meet your expectations. The body of this knife is made of metal. This makes it highly resistant to damage. The advantages of the Stanley retractable knife include the innovative wedge blade locking system. This is a very useful feature. The blade will not slide back in under pressure, which makes work that much easier. The blocking feature also improves working convenience and user safety – the convenient blade retraction system offers protection against injuries. The Stanley retractable knife is intended for 18-mm blades.
When you choose tools for your e-commerce business, make sure to check out adhesive tape dispensers. They are necessary for preparing packages for shipment. They can help you pack your items in a neat and tidy way, contributing to the good image of your company and customer satisfaction. Every product we offer is a guarantee of quick and efficient work. Explore our entire product range to find the best solutions for your business. Call us or send us an e-mail if you have any questions – we will provide you with all the information about our products you could possibly need.

Preparing packages for shipment on a daily basis? Don't forget about tools. Choose retractable knives and blades. You can find them at Boxmarket.eu!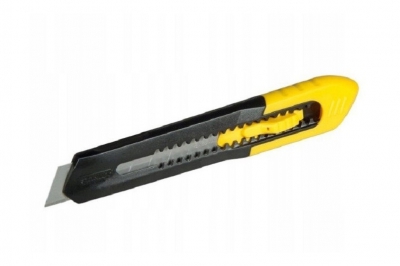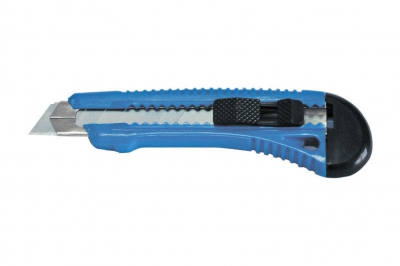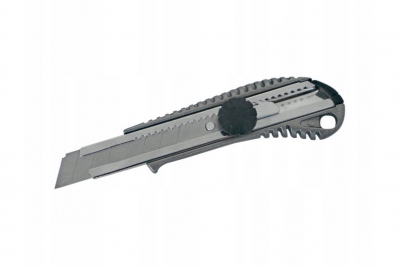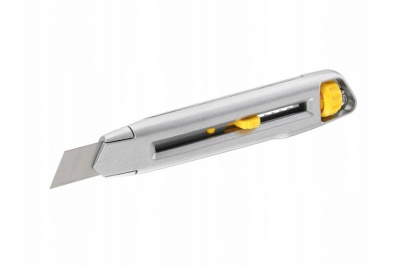 Sorry for the inconvenience.
Search again what you are looking for