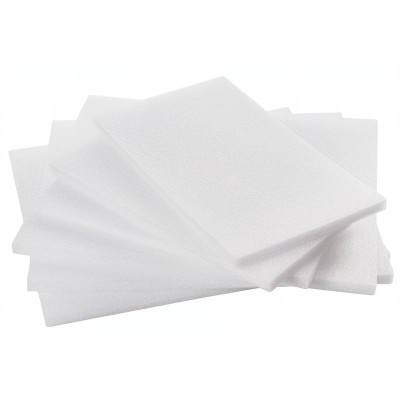 Shipping 48h
PE foam sheets
PE foam sheets are one of the many items available at the Boxmarket.eu online store. They have a broad range of applications, and they are a great alternative to foamed polystyrene. Foam sheets are mainly used in the e-commerce business. They are a good choice because they are easier to recycle than polystyrene. The offering of the Boxmarket.eu online store includes high-quality PE foam, which is an indispensable item in the packaging industry.
Protective PE foam sheets
PE foam is an excellent material to protect and insulate packages. It is soft and easy to modify. All you need are the right cutting tools. The primary function of this material is to protect delicate products that will be placed in the packages. The primary advantage of PE foam is its resistance to chemicals, including acids and bases.

High-quality PE foam sheets are available at the Boxmarket.eu online store. They are supplied in several standard sizes:
600x400x20 mm,
600x400x30 mm,
600x400x40 mm,
600x400x50 mm.
Check out all our proposals and then pick the sheet that best meets your needs. Make sure to use the right scissors. They will enable you to cut out the shape you need for the specific product. We propose models made of high-quality materials for enhanced user comfort. The prices are really very affordable.
Packing accessories – safety first
Packing accessories include more than just special stretch film or labels. You might also be interested PE foam sheets. They have a wide range of applications. We definitely recommend them if you are wondering if they are actually worth it.

When you send a package to the customer, you should take care of every detail to maintain good relations with the customers. When they receive a package that does not look like what you agreed for and that has been damaged during transport, they will no longer choose your services. That is why it is so important to correctly secure the package. In addition to finding a box suitable for your product, you might want to also use PE foam sheets. They offer perfect protection against damage or shocks for your goods. They are also affordable. Check them out today.
PE foam sheets – applications
PE foam is a material that finds application in areas connected with the packaging of various types of products. PE foam has excellent properties. It is odourless, insulating and waterproof. It is a closed-cell material, which means that it does not absorb water and does not permeate air. Is it similar to foamed polystyrene? Foam sheets have thermal insulating properties similar to foamed polystyrene, but there is one fairly important difference. PE foam is 100% safe and easy to recycle. This is the primary advantage of PE foam. PE foam sheets can be used to pack objects with a delicate surface that is susceptible to scratches. Thus, you can use them to protect glass, ceramics, furniture, electronic devices, radio and television products and household goods.

Order PE foam sheets at the Boxmarket.eu online store at an affordable price. If you operate an online store or another business connected with transport, you will need PE foam sheets to ship your goods.
Correct protection for your packages
Before you prepare a package and decide to send it, make sure you are adequately prepared for this, particularly if it is connected to your business. After all, any error could harm your relations with the customers and cause them to have a negative opinion about your company. Does every product have to be secured? If you want to ship delicate products, you might want to place a warning label on the packaging in addition to using protection in the form of PE foam. This way, the courier will know what is inside and how they should handle the package.

The key aspect in the preparation of the package is choosing the right box. It should be suitable for the product to provide the best possible protection. You will often find that you need additional fillers and means of protection, including PE foam. They protect the goods against damage and ensure adequate insulation. If you are looking for safe and functional packing products to make sure that your products reach the customer intact and that the package looks neat and tidy, explore the offering of the Boxmarket.eu online store. Our wide and diversified product range includes everything you could possibly need to ship packages professionally. We propose high-quality solutions that are tailored to the needs of the fast-growing e-commerce industry and are adapted to modern distribution. If you have any questions or doubts concerning our offering, call us or send us an e-mail. Our employees will be happy to provide you with all the information you may need and advise you on choosing the best products and accessories.

PE foam sheets are an excellent solution for packing different types of products. Order them today at our Boxmarket.eu store!
Sorry for the inconvenience.
Search again what you are looking for