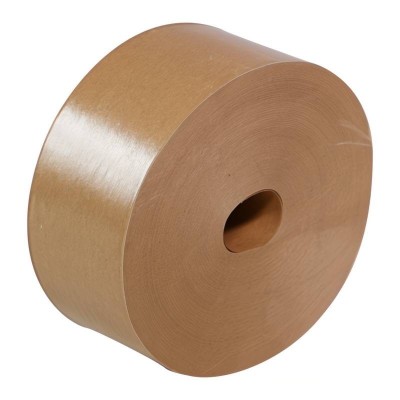 Shipping 48h
Wet adhesive tape
Wet adhesive tape is the perfect choice for people who are looking for a way to provide appropriate protection for their package. This solution has become increasingly popular with both small and large companies. There is a reason for this. Wet adhesive tape is durable and efficient. You can use it to make sure your package is securely packed and reaches the customer intact. If you are looking for packaging and accessories for professional packing, check out the proposals of our Boxmarket.eu online store. Visit us today!
Wet adhesive paper tape – is it a good choice?
Wet adhesive paper tape is a universal product. It can be used by both small and large e-commerce companies. Are you wondering how does wet adhesive tape work? We are happy to explain.

Paper tape is activated by water. It has a special adhesive. This is the key to guaranteeing 100% security of your package. Such tape is also difficult to damage. It guarantees that no one can open the package before it reaches the addressee. That is why companies are so fond of this product. Adhesive tape is used together with a suitable paper tape dispenser. The dispensers make packing more efficient and enhance working comfort.
Wet adhesive tapes – what should you know?
Wet adhesive tapes have a wide range of applications. They are used increasingly by companies as well as households. The advantages of such tapes include their versatility and strength. It is not easy to open a product secured with this tape without tearing the joint open. Also, the tapes adhere immediately. You do not have to wait long to see the effects.
When choosing wet adhesive tape, pay attention to the technical specifications, including length and width. It is important to analyse the individual properties so that you can pick the solution that best matches your individual requirements and needs.
High-quality wet adhesive paper tapes
Wet adhesive paper tapes are an indispensable item if you want to prepare your packages for shipment. They guarantee that the package is correctly secured. With this tape, you do not have to worry that the product sent to the customer will be damaged during transport. This is very important because it affects your cooperation with the customers and the reputation of your company. If you are looking for professional packing solutions, make sure to also check out F427 die-cut boxes. They are a universal product and are suitable for many e-commerce companies.

The offering of Boxmarket.eu is very diverse. Popular products also include wet activated reinforced tapes. These products are reinforced with fabric for enhanced tear resistance – we recommend browsing our entire range to pick the products that best meet the needs of your brand.
Simple and convenient packing with wet tape
Are you responsible for preparing packages for shipment? Do you want to assure the high quality of your services? We have a solution for you! We offer suitable packaging and all the necessary accessories. The condition in which the customer receives their order depends on the correct packing and protection of the items you send. If you use high-quality wet adhesive tape to seal the package, you can be certain that it will reach the addressee intact. You have to remember that not every adhesive tape has the same durability and resistance to damage, which is why it is best to use proven solutions from trusted manufacturers. With the products you can find at our store, packing will become fun and easy, and your goods will have perfect protection.
Boxmarket.eu – high-quality solutions for the e-commerce business
Boxmarket.eu is an online store that offers high-quality products intended for functional and aesthetic packing. We offer items such as cardboard boxes, which are durable and resistant to all kinds of damage. Persons who are looking for accessories that can provide appropriate protection for their packages are recommended to choose our wet adhesive paper tapes. They have a wide range of applications. They are a perfect way to join the structure of cardboard. This ensures that no unauthorised person can open the package without leaving visible signs of tampering. That is why this product is so often bought by companies. Wet tape is inexpensive, but it brings tremendous benefits.
The offering of our store includes more than just high-quality products for secure shipment of goods. We have our own design department, which is why we can adapt our packaging products to the expectations of our customers. Our experienced graphic design specialists can design digital prints for special shipping boxes. This is a solution for companies who want to improve brand recognition and get noticed thanks to original packaging. The customers will certainly appreciate this. Visit us and find out what we have to offer. Contact us if you have any questions.

Wet adhesive tape is a must-have at any company that ships its goods. Order it today – check out the offering of Boxmarket.eu!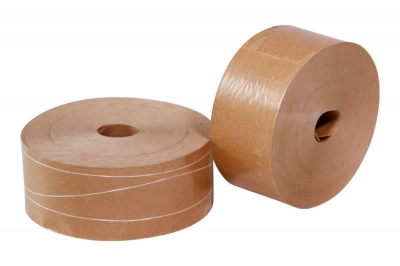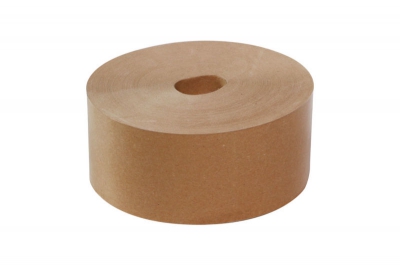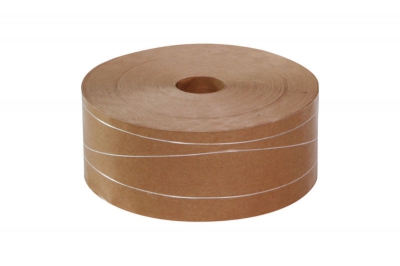 Sorry for the inconvenience.
Search again what you are looking for