This site uses cookies to deliver services in accordance with the Privacy Policy
You can specify the conditions for storage or access to cookies in your browser.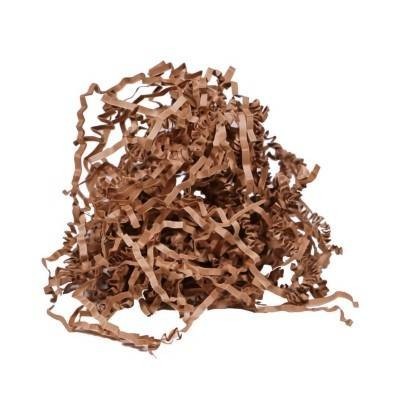 Box filler – paper shavings
The shape of the packaging does not always match the shape of the goods inside. Also, it is difficult to precisely match the former with the latter. In such cases, a popular solution is to use box fillers, such as paper shavings. What are the benefits of this solution? What should you know about paper shavings? 
Box filler is essential
What are the strengths of box fillers such as, for instance, paper shavings? Such an element is important for two reasons. Firstly, it can be used to ensure that the product is safe and reaches the destination intact. The second important aspect is how it affects the customer's perception of the package.
What do we mean by this? Well, there are various kinds of materials people use as box fillers. Sometimes, it is just regular waste, such as old papers or plastic film, which is even worse. In the former case, the visual effect is inelegant. In the latter case, in turn, the plastic filling is not neutral to the environment. It is certainly a good idea to select the right filler, and paper shavings are a very interesting choice.
Which box filler is the best?
How to select the best box filler? The available options include paper shavings as well as:
Packing foam – inexpensive and effective if you want to pack something quickly but also provide excellent protection. Still, the foam cannot be reused. It is not particularly sustainable and requires plenty of storage space. The customers are not thrilled about it either.
Bubble wrap – offers good protection and is popular with the customers. It is light, universal and can be re-used repeatedly. It is difficult to process and recycle.
Paper fillers – easy to use but not very elegant. Expensive, heavy and not very good at protecting the items you send.
Why should you choose paper shavings?
Compared with other packing materials, paper shavings are a very promising choice. Firstly, they come in many different colours. The basic versions are white and brown. However, our range also includes over a dozen other colour variants. Generally, this type of filler provides an interesting visual effect. It can be successfully used to protect even large items. The final result is much more visually pleasing than, for instance, a beautiful cup wrapped with newspaper, bubble wrap or packing foam.
Sustainable packing shavings
Why else should you choose paper shavings? It turns out that this material is fairly friendly to the environment, just like packing paper or solid cardboard envelopes. Paper shavings can successfully be made from materials intended for recycling. After use, such shavings are well-suited to be recycled once more. At the same time, you can be sure that the shavings consist of 100% paper. They do not contain any other materials or synthetic elements.
Practical paper shavings for parcels
What are the reasons to use paper shavings for parcels? Generally, this is a high-quality filler that provides excellent protection for your product. It is a great choice when you have to protect goods with irregular shapes and sharp tips. Considering all the various aspects, i.e., the level of protection, appearance and sustainability, shavings for parcels are gaining in popularity.
Filling with paper shavings – what else should you know?
What else should you know if you want your package to contain filling with paper shavings? This sustainable filler is used with increasing frequency. You might want to stock up a bit on this material. A package weighing 1 kg contains enough shavings to fill up to 70 l. Also, if you place a larger order, you can expect to get a discount for large quantities. You begin to qualify for a discount after ordering more than three packages of the product.

Paper shavings are a universal and sustainable filler for parcels. They are an excellent, visually appealing choice even if you want to send exclusive goods.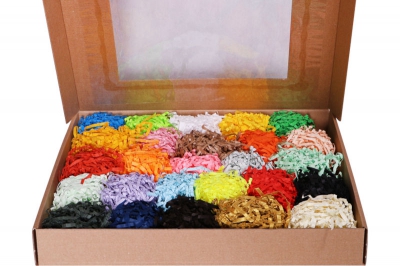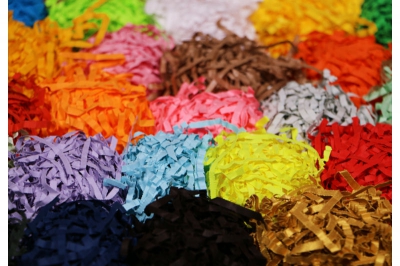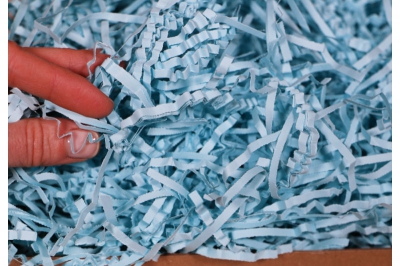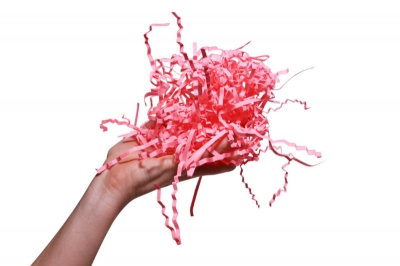 Box filler – paper shavings
Sorry for the inconvenience.
Search again what you are looking for