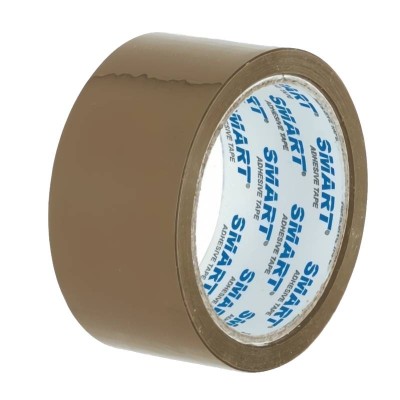 Shipping 48h
Adhesive tape
Which adhesive tape for packing is the best? The development of the e-commerce market generates a high demand for packing articles. If you receive many orders, it is critical for the packaging accessories you choose to be extremely efficient and functional. What adhesive tape to pick? This is one of the more important questions when you are starting your own online store.
How to pick adhesive tapes?
Which adhesive tapes will be the best? If you pack packages only sporadically, you can pick just about any product. Any minor inconvenience caused by a specific tape type will be easily compensated for by the fact that you do not use it very often. However, if you pack many packages every day, every fault becomes difficult to accept.
What should you expect from adhesive tapes for packing? Most importantly, they have to perform their basic function, i.e., secure the package or envelope against opening by accident. You should make sure that the type of material, adhesive and tape width enable convenient use.
Strong adhesive tapes. What is most important?
What is the most important aspect of strong adhesive tapes? Well, the most important aspect is for the adhesive to be of good quality. When you use adhesive tapes, you have to make sure that the glue used to attach the tape is strong, adheres well and ensures a durable bond.
You can find the following types of adhesives:
Acrylic adhesive – a very common mixture, providing good adherence thanks to an increased length of polymer chains. The minus is the low initial adherence, which, however, increases over time. An important strength of this adhesive is its resistance to weather conditions. Also, the adhesive does not turn yellow over time.
Rubber adhesive – natural adhesive from rubber trees. It acquires suitable adhesive properties after it is combined with a resin. It is resistant to tearing and low temperatures but does not withstand high temperatures very well. It is also sensitive to sunlight.
Synthetic rubber adhesive – works for a long time, adheres well and is resistant to shifting, but it has low resistance to high temperatures and sunlight.
Therefore, the acrylic adhesive is definitely the most universal choice. It can be used in a wide range of conditions, and you do not have to worry about the package or envelope coming apart. Obviously, the type of adhesive is an important contributor to the price differences between the products.
Convenient wide adhesive tape
What should a convenient adhesive tape be like? Wide or rather narrow? The width and length of adhesive tape are very important aspects that determine its functionality. The first one of these parameters should be picked so as to ensure that the tape is useful during the packing of boxes or envelopes. The most popular width is 48 mm. Why? You can use it to easily join two parts, such as the corners of the box, without having to worry if the joint will be strong enough. Wide adhesive tapes, in turn, may come in handy when you have to tape over a very wide surface or where the box has significant dimensions.
The length of adhesive tape is specified in metres of yards. It usually ranges from 40 m to as much as 150 m of tape on the roll. Are the longest tapes the best choice? Although they might seem like the most economical choice, you also have to consider the convenience of user. With the longest rolls, the tape can weigh a lot, which makes it harder to handle.
Popular transparent adhesive tape
What should be the colour of the tape? Many people prefer to use transparent adhesive tape. This is an excellent choice wherever you need to firmly secure a box or an envelope but also want to achieve an aesthetic appearance. By using transparent tape, you can ensure that a decorative box or pretty envelope will not be unsightly taped over with coloured plastic.
The brown adhesive tape is another option
An equally popular solution is the brown adhesive tape. Strong and non-transparent, it is very frequently used to tape over various packages. In this case, the emphasis is placed on the functionality rather than the visual effect. The interesting thing here is that the plastic itself is not brown, the colour originates from the colour of the adhesive. This is a true classic when it comes to box packing.
What to do if you want the package you tape to look neat? A viable alternative is to use a white tape. It can be printed over with some interesting patterns to look even better as printed adhesive tape.

Picking the right adhesive tape will guarantee that the package does not open at the worst possible moment. Order now!
Sorry for the inconvenience.
Search again what you are looking for