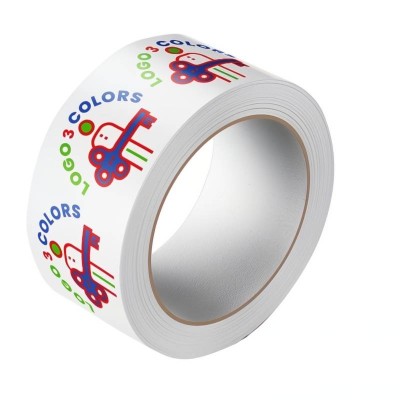 Printed adhesive tapes
Why should you use printed adhesive tapes? Due to the development of the e-commerce sector, every brand or online store wants to do everything it can to stand out from the competition. A good way to do this is to use customised accessories. What should you remember when choosing printed tape?
Strong printed adhesive tapes
What should you remember if you are wondering which printed adhesive tape to choose? Such products have to look neat and be strong at the same time. The tapes should be strong. That is why you need to pick products with strong plastic film. A good solution here is to use a polypropylene material that has been welded twice. This provides an adequate strength but still enables printing.
Why choose tapes with a logo?
What are the reasons to pick a tape with a logo? Such tapes attract attention, just like, for instance, coloured envelopes, but this is not their only strength. They also improve the recognisability of your brand or product. They will make it much more likely to be remembered by your buyers. A tape with a logo creates an impression of professionalism, and the package is packed securely without compromising on interesting aesthetic qualities.
High-quality printed packaging tapes
Printed packaging tapes are a well-proven idea as long as they can tape over packages well. The important thing is for the products to have an adhesive that adheres firmly and quickly. It should also be durable. Packaging tape with a single-sided rubber adhesive is definitely a good choice. It will prove useful both during your everyday office business and in an online store.
Aesthetic adhesive tape with custom print
Aesthetic considerations are very important in the context of custom-printed adhesive tape. What should be the colour of the background? The product should stand out from classic packing accessories, which are brown or transparent. In this case, to correctly highlight your print, you need to pick the right background. The first and cheapest option is, obviously, white, but there are other possibilities as well. You can also select a different background colour. The tape can be printed over with two or three colours.
Professionally designed custom-printed packaging tape
The appearance of custom-printed packaging tape should be as aesthetic and refined as possible in every respect. What you need, then, is for the logo to have the right resolution. It is obviously critical for the image to be neatly designed. In this case, the preparation of the design is free. It should be sent to Boxmarket.eu in a high-quality file (PDF, EPS, AL or CDR).
The width of the adhesive tape with the company logo matters
Adhesive tape with a logo of the company has to be wide enough to firmly join, for instance, two edges of the box. However, the tape must also not be too wide. Why? Because you do not want to waste any material or send packages that look untidy. On the other hand, however, the tape needs to be easy to handle. That is why the width of 48 mm is regarded as the optimum width. It is perfect for connecting even fairly large items, and it is also very handy.
Efficient custom-printed tape
What else should you pay attention to when choosing a custom-printed tape? It is certainly important for such accessories to be efficient. The quantity of tape used at your company should determine the size of your order. At the same time, every roll should be light and handy enough to be easy to handle. Therefore, the best solution is to sell tape in 60-yard rolls.
Adhesive tapes with a logo at an affordable price
Looking for a way to save on adhesive tapes with a logo? You can buy such products at a good price by placing a larger order. The larger the batch, the smaller the cost of each roll. Fortunately, such accessories can be stored for a long time, and there is nothing to stop you from ordering a larger quantity. You might want to know that, due to the nature of the production process, the manufactured quantity of the goods may be smaller or larger by up to 15%, and the customer is obliged to collect any surplus goods. From the time the design is accepted, the estimated lead time is 21 business days.

Adhesive tapes with a logo are another method for customising the items offered by your company. They will make it easier for the customer to remember your brand.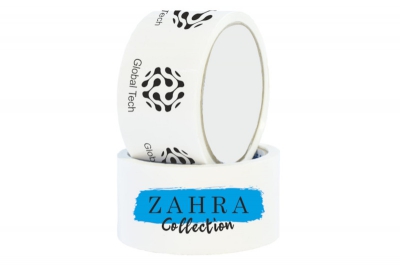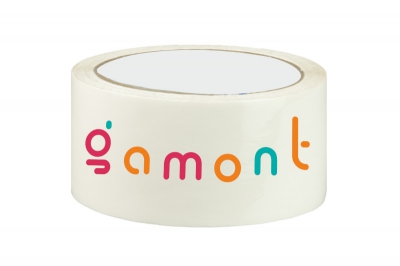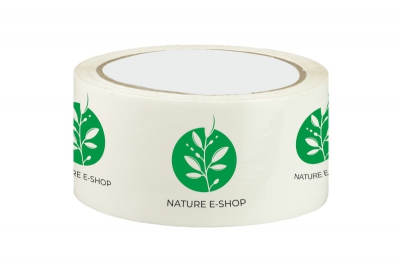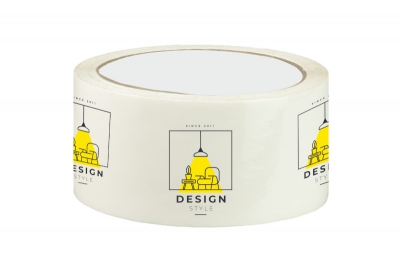 Sorry for the inconvenience.
Search again what you are looking for